Founded in 1999, toXcel is committed to promoting and improving the safety, health, and well-being of people everywhere. We work with businesses, government agencies and communities to offer reliable scientific, analytic, technical, and regulatory services.
Headquartered in the Metropolitan Washington, DC region, with offices located across the U.S. and in the United Kingdom, toXcel brings worldwide expertise to challenging scientific issues in toxicology, environment, transportation, public health, and other domains.
in vitro Toxicology Updates
Chris McAlinden participated in the 'Applied in vitro toxicology course' jointly organised by the European Society of Toxicology In Vitro (ESTIV) and the American Society for Cellular and Computational Toxicology (ASCCT) – the course covered subjects pertinent to current regulatory, screening and investigative in vitro toxicology issues, as well as practical laboratory examples.  This experience will  contribute to the guidance we are able to provide for our clients regarding the use and acceptance of in vitro methods for investigative and regulatory purposes.
The Latest QSAR Capabilities
toXcel is pleased to announce that we now have a contract with Leadscope Inc. which enables us to offer a number of QSAR Toxicity Prediction models including impurity assessment according to ICH M7.  Please reach out to Christine McAlinden for details.
toXcel Staff at a Department of Transportation Meeting
toXcel staff Paula Raymond, Sheryl Miller, Jennifer Fulford, Nicole Perkinson, and Jennifer Symoun met the United States Secretary of Transportation, Elaine Chao, and National Highway Traffic Safety Administration Acting Administrator, Heidi King, while attending a meeting at the U.S. Department of Transportation.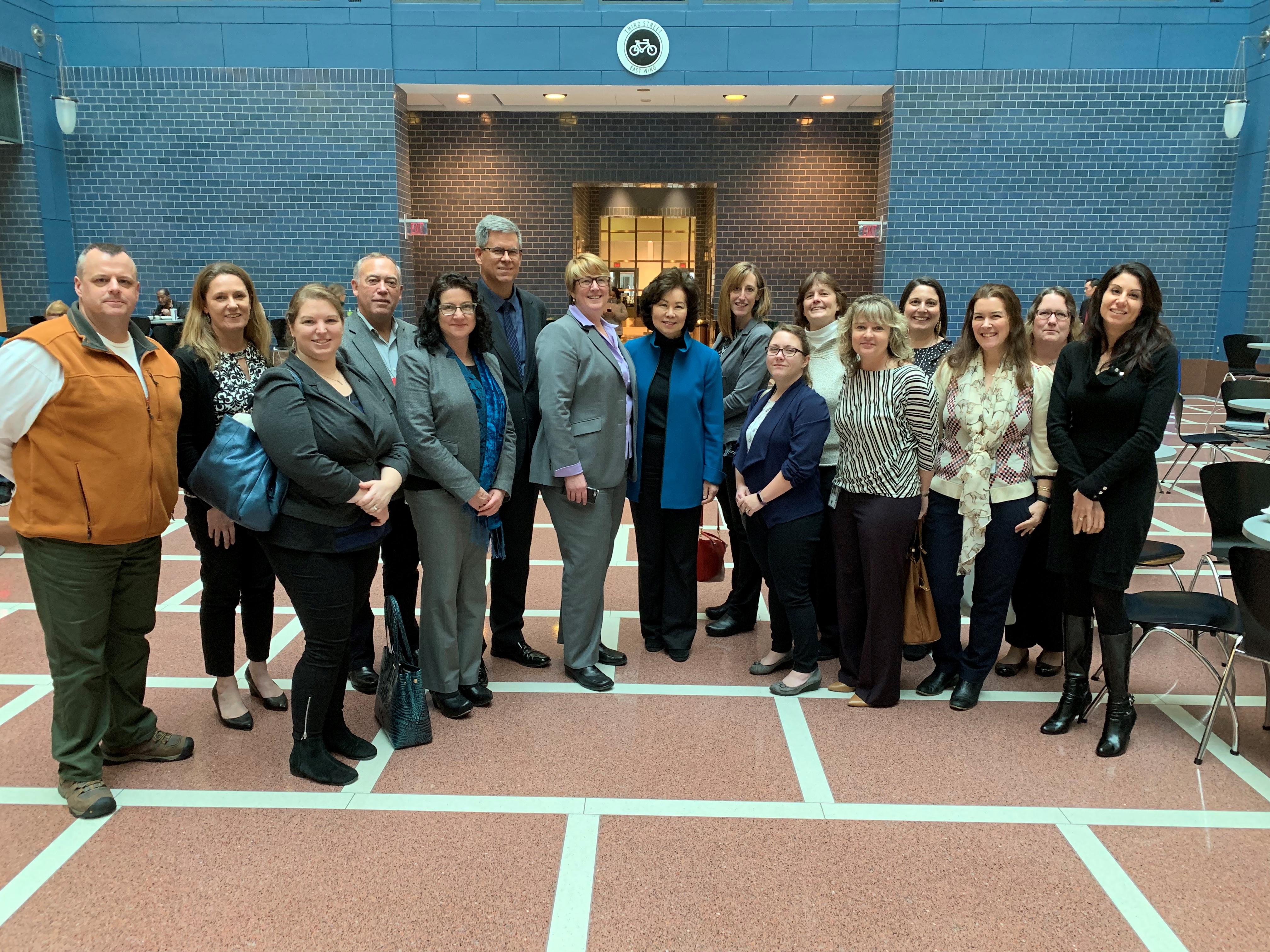 Publication on toXcel Research
The Journal of the Air & Waste Management Association (JAWMA) has published a manuscript by Gary Whitmyre, Senior Director of Exposure and Risk Assessment in toXcel's Life Sciences Division.  The publication is entitled "Probabilistic Assessment of the Potential Indoor Air Impacts of Vent-Free Gas Heating Appliances in Energy-Efficient Homes in the U.S." This research was conducted for the Propane Education & Research Council (PERC), and the full report on which the publication is based is available on the PERC web site.